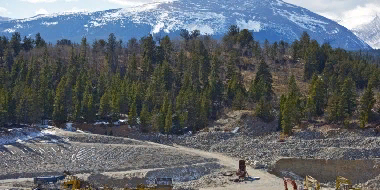 Mining and Concentration
Extraction of precious metals from mineral raw materials and spoil heaps is one of the most promising industries with a significant growth potential.
In the current market conditions, subsoil users are revising their development strategies in favour of expanding the mineral resource base.

The state of the world's precious metals production, demand and supply dynamics stimulate enterprises to increase productivity, implement innovative solutions and acquire funding.

Cooperation with research and engineering companies, manufacturers of mining and processing equipment promote synergy in solving the problems of subsoil users.
Trends and problems in the potential of the mineral resource base have a direct impact on the dynamics of the mining industry of precious metals. The low content of precious metals in ores, rising energy prices, high taxes, and fluctuations in stock markets are just some of the reasons for optimizing existing technologies and implementing modern innovative solutions.

Euro Recycling Group services:

company audit for shareholders and creditor banks
conducting research to optimize technological processes
technology and equipment optimization solutions
feasibility study of the project for optimization of production and concentration technology
design of the plant based on the results of the proposed optimization solutions for the existing mining and concentration technology

In the current situation, business has plans for exploration and mining of precious metals. Prior to commissioning a mining and concentration plant, a number of complex and high-risk works should be carried out: geological exploration, resources assessment, technology development, equipment selection, preparing project documentation.

Euro Recycling Group services:

searching for and bringing in investors for development of the site
project appraisal for the creditor bank
geological and technical audit of the mining facility
conducting scientific research for technology development
feasibility study development and plant design
selection of equipment for mining and concentration